Complete KIT. MiniUSB BDP Hardwire + Add-a-Circuit Fuse Tap Piggy Back Fuse Holder 12/24V ( ATO/ATV, Mini, MIcro )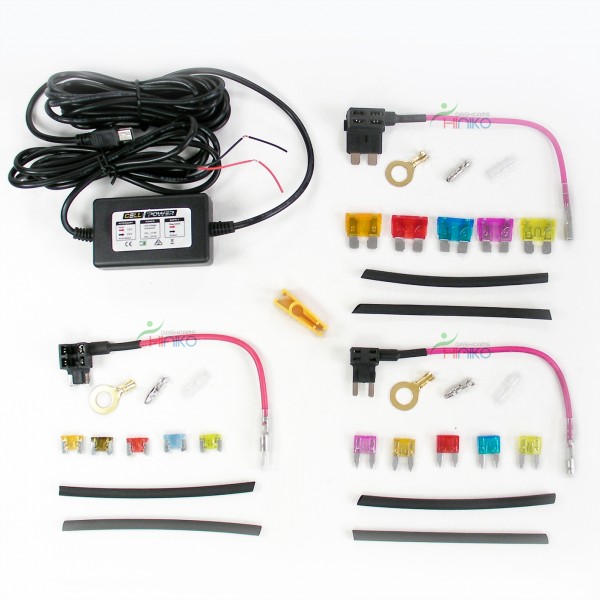 Complete Hardwire + Power Control KIT for your Street Gaurdian SG9665GC hardwiring / installation.


1pcs

CELL POWER BDP ( battery discharge prevention ) device / power converter


31pcs

add-a-circuit complete KIT


CELL POWER

Approved to use with Street Guardian SG9665GC dashcamera
Beware of cheaper analogues !
CELL POWER comes from developer of "Street Guardian"


12V to 5V MiniUSB Power Adapter with BDP (Battery Discharge Prevention). Also can be used on 24V vehicles ( 24v to 5V )




11.6V / 23.2V Low Voltage Cut-Off for Street Guardian SG9665GC (and other mini-USB powered) DashCam products




Tap into your car's fuse box for hard wired power.




You can wire the CELL POWER miniUSB BDP hard wire kit to a "Switched" Accessory fuse power circuit and it will turn on/off with the car engine.




You can also wire it to "Non-Switched" Battery fuse power circuit and it will supply power 24/7 until Battery Discharge Prevention kicks in and shuts off the camera.




Note: you need to buy an add-a-fuse pig tail to connect this, available HERE




Total Length = 13 feet / (4 meters)




miniUSB side = 8 feet / (2.5 meters)




fuse panel side wire = 5ft (1.5 meters) [red/black wires are 16 AWG




In-Line Fuse Holder is Designed to Turn One Slot Into Two
Kit of 3 different Fuse types:
-ATO/ATV
-Mini Blade Fuse.
-Low Profile Mini/Micro

· Wire Length: about 12cm.
· Total length: about 16 cm
· MAX Installation Rating Up To 20Amps
· The parts of ACS base and ACS coverwere welded by Ultrasonic wave.


1pcs Fuse Removal Tool
3pcs 12cm Piggy Back fuse holder
3pcs wire plug
3pcs wire plug cover
3pcs ground wire connector
6pcs 10cm heat shrink tubes
15pcs Fuses: 3A, 5A, 7,5A,10A, 15A, 20A